WHO IS DIGITAL WISDOM?
Digital Wisdom is a skillful
multimedia
and
design
studio located in the upper
Blue Mountains
of NSW. Established in 2000, Digital Wisdom continues to deliver high quality
web
,
design
,
video
,
inductions
and
e-Learning
solutions Australia wide, including Sydney, Brisbane, Melbourne and the local area of Katoomba - Lithgow - Bathurst - Orange.
Our Focus
Our focus as a business is how technology can make your business better. No if's or but's. We want you to succeed, whether it be using e-Learning / video inductions to make your workplace training more engaging and cost effective, or web and graphic design to create your new image. We achieve this by applying creative solutions backed by our experience and expertise in all elements of design and multimedia.
We strive to build a quality reputation that is based on the quality of our products and our approachability as a company who listens and delivers real solutions no matter how large or small the job.
Our Team
Our team includes accomplished graphic and web designers, e-Learning programmers, project managers, instructional designers, Video & effects experts and multi-media professionals with a clear focus and ability to deliver quality work and exceptional service. It's because of our strength in all these job functions that we create such an excellent product.


SERVICES
Graphic Design
Digital Wisdom have many satisfied clients who have utilised our graphic design skills to enhance their business profile. From logo design and brochures to stationery, flyers, print ads and banners. As well as graphic design, we also offer a five level photo restoration service ranging from reducing red eye and adjusting colour to a full touch-up/airbrushing and basic restoration for scratch and crease removal to total photographic rebuild for heavily damaged and deteriorated photos. Read more about graphic design



Web Design
Let Digital Wisdom elevate your business profile with a fresh
website
. Digital Wisdom keep abreast of the latest web technologies offering
CSS
,
PHP
,
Flash
and Data-base driven websites. The staff at Digital Wisdom are driven to finding ways to bring traffic to your site and achieve high rankings in leading search engines
(SEO).
We also complete your web needs with
domain name
registration and our very own
hosting
. Digital Wisdom - your one-stop web needs provider. Read more about
web design

Video
Digital Wisdom have an experienced team to fulfil all your
video/filming
needs. Whether it be a promotional video as a marketing tool, a special event filmed or for a presentation - we can film on site for you, compile, edit and deliver it to you on DVD. From commercials and promotions to event/conference filming - Digital Wisdom will provide you with a quality resource.
We also offer a dubbing and duplication service for clients who would like to
transfer VHS or Mini DV tapes to DVD
or make multiple copies. Read more about
video

Inductions
One of our most popular products are our
Inductions
. Our inductions make full use of our video team and their expertise. We film site specific inductions for staff, contractors and visitors. We can deliver our inductions in two modes; DVD and Intranet / Internet. A unique feature of our CD ROM Intranet inductions is the ability to track & assess the user's progress. Read more about
inductions

e-Learning
e-Learning is the online delivery of information, education and training.
e-Learning
distributes knowledge and skills, consistently throughout your organisation fast! With e-Learning, training assessments can be automated, recorded in a central database. e-Learning is the perfect solution to many challenges in todays workplace. Consider the benefits and cross-cutting potential of e-Learning for your company today. Read more about
e-Learning

Multimedia
Some of our clients come to us with something in mind and others come with a concept unsure of how to progress. We'll consult with you and listen to your needs, requirements and ultimate goals and then present multimedia options. With your input we'll deliver in a format suitable to you, a quality, high-end multimedia display that serves your aims - that you'll be proud to use. Read more about multimedia
Promotional Material
We now supply a number of display options for your business including banners, flags, posters & displays.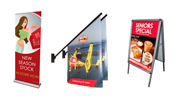 New tourist attraction, The Old Wallerawang railway Station approach Digital Wisdom for website... Read More

CSTC celebrate their Annual Awards of Excellence with the help of Digital Wisdom design dept... Read More

Centennial Coal Clarence Colliery signs up for induction package... Read More

BLFQ CMS site set to launch!... Read More

Photo Restoration service sky rockets!... Read More

Well Being Therapies - Another local business set to web... Read More

Centennial Coal Angus Place are celebrating their 20th Anniversary this year with the help of a Digital Wisdom Video... Read More

Jack and Jill Preschool website ready for launch!... Read More